SKU: {{ Item Code }}:DS-PWA96-KIT2-WE
Low stock: 1 left
Regular price
£ 469.49 GBP
Regular price
Sale price
£ 469.49 GBP
Unit price
per
Xmas Deal ✓
Sold out
FREE! Next Working Day Delivery - Purchases over £150 (Mon - Fri) order before 3pm*
HIKVISION AX PRO SERIES INTRUDER DETECTION KIT MIDDLE LEVEL DS-PWA96-KIT2-WE
Product Key Features
Intrusion and Video, refocused. Designed and produced by the WORLD LEADER in security, it's time to rethink what your wireless security system can do. Completely driven from your app, on demand, and with a wide range of products, the AX PRO wireless intruder alarm system delivers video on-board, with our revolutionary and proven wireless protocol for knock out stability.
A WIDER VIEW - The AX PRO incorporates IVaaS, integrating video verification capabilities with 4 camera video buffer ONBOARD, to show the customer exactly what's happening, so they can take appropriate action.

THE FUTURE IS NOW

 -

 Fast, reliable and secure, our powerful Tri-X Wireless Technology delivers the next level of security; speeding up installations, while delivering the best experience for both installers and their customers.
RADIO SILENCE - Don't be a victim of jamming or interference! Advanced anti-jamming security on our radio protocol protects the integrity of the system over the long term, providing increased stability and security.
DESIGN - With the AX PRO, the entire range of security, safety and video products deliver the same stylish, professional and uniform finish with equally outstanding performance.
EASY & SMART INSTALLATION - With faster installation and flexibility, over time the panel auto-adapts to changing ISP or equipment; now that's clever through features like auto enrollment and quick-install peripherals, you can do more.
WHAT THIS INCLUDES:
WHAT IS INCLUDED: 
1X DS-PWA96-M-WE 
1X DS-PK1-E-WE 
1X DS-PS1-E-WE (Blue) 
2X DS-PDP15P-EG2-WE 
1X DS-PDMC-EG2-WE
Hikvision's AX PRO Wireless Alarm System makes it easy to secure premises and monitor them remotely. Completely driven from an app, on demand, and with a wide range of products, the system delivers video on-board, with our revolutionary and proven wireless protocol for knockout stability.
The AX PRO includes a multitude of impressive features, including Tri-X Technology, IVaaS (Intruder Verification as a Service), and a slick design.
They say knowledge is power – when you know what's happening in your premises, you can take action. This makes users feel in control from wherever they are and provides a powerful deterrent and action intervention tool.
Portable and discreet, raise an alarm with minimal fuss and straight-forward set up of the Wireless Portable Emergency Button.
One manufacturer, one interface. With the AX PRO, the power is in your hands; manage multiple systems through the Hik-ProConnect app and web interface, configure devices, control video and monitor. A total system with total control.
Model:  DS-PWA96-KIT2-WE
Part Number:  DS-PWA96-KIT2-WE
Brand:  HIKVISION
Share
View full details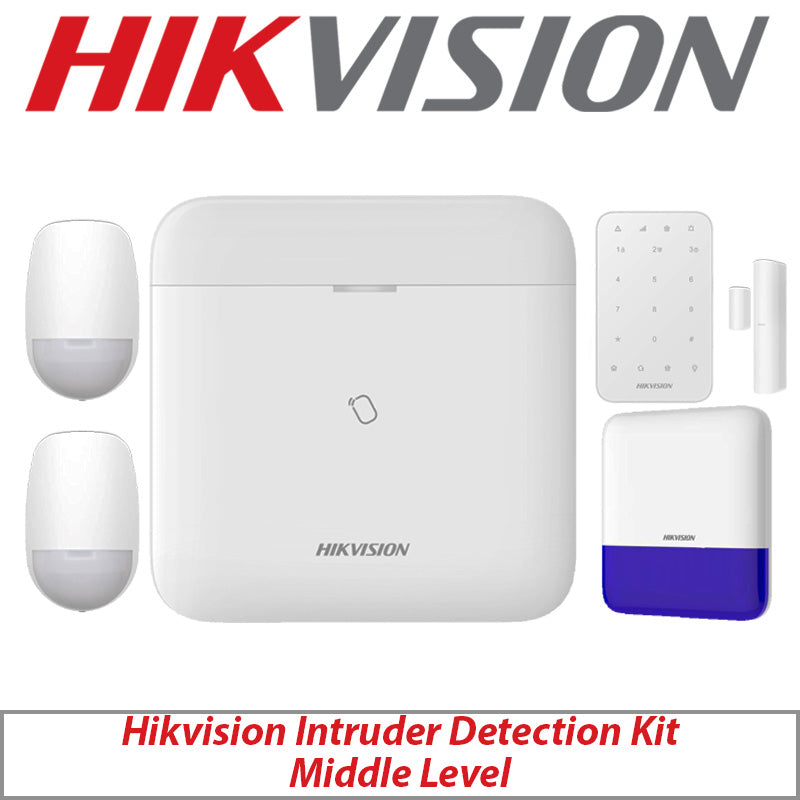 Collapsible content
Delivery

Delivery Information:

DPD Next Day Delivery - Free Next Working Day Delivery - Purchases over £150(Mon - Fri) order before 3pm* purchases under £150 attract a £7.99 delivery fee.

*Please note: We cannot guarantee next day delivery due to the nature of couriers and possible delays. All items will be dispatched the same working day if ordered before 3pm.
Return Policy

Bristol Communications and Electrical ltd accept returns on all items within 14 days. If there is no fault with the product, the buyer must pay the return postage costs, of which are non-refundable.

If we deem the items returned to be in an unsatisfactory condition we reserve the right to charge up to 40% of the final selling price. This cost will be decided upon receipt of goods. Within this percentage will be the costs to repair/refurbish/repackage items.

Items that are being returned due to buyer error will be refunded MINUS postage costs. Postage costs are set within many of our overall prices, postage costs will be deducted from final refund amounts.

If there was an error on our side, for example incorrect or damaged items we will except all responsibility for postage costs and a full refund will be given.

Please note: You have the right to cancel within 14 days of delivery, if this deadline has passed we will not accept the return request.
Need some help?

Please feel free to get in touch with our sales team. Use the contact us page - email sales@bcedirect.co.uk or give us a call on 01761 452997 we will be more than happy to chat through your requirements.
We're an Independent family run business.
Please feel free to get in contact if you need any help or further information on any of our products, give us a call on 01761 452 997 we're here to help.
We only provide UK Hikvision products so you get full firmware updates and reliable kit.
FAQ'S
Where are your products sourced?

We source all of our kit from Hikvision UK, this means there is a standard 3 year warranty and all firmware can be updated direct from the Hikvision UK and Ireland website. We do not sell grey market imports. These are usually around 20% cheaper than official products and can be very troublesome, often with english flashed firmware making it impossible to support if something goes wrong.
What is acusense?

Here at BCE Direct we love the acusense feature, which is now available on most NVR, DVR or IP Cameras. This is where you can distinguish between a human, vehicle or animal. It's a built in algorithm that can detect the difference between the above and eliminate false notifications. The feature is so good it can exclude leaves birds or rain.
Darkfighter, Colorvu, Hybrid? What are their differences?

Colorvu in it's simplest form provides full colour throughout the night, these cameras use a small led on the front of the camera to illuminate an area that you are recording and provide full colour sharp images even in complete darkness. Darkfighter are black and white at night cameras and colour through the day but provide some of the clearest crisp images due to it's standard infrared light. Hybrid is a mix of the above, these relatively new cameras are more like a pir floodlight, where they use the acusense feature to identify humans or vehicles and turn the led lights on during the night, so infared (black and white) at night then full colour if something is detected.
Difference between NVR and DVR?

When it comes to video surveillance systems, one of the most important decisions you'll need to make is whether to choose a network video recorder (NVR) or a digital video recorder (DVR). While both options serve the same purpose of recording and storing surveillance footage, there are several key differences to consider when making your decision.

First, let's take a closer look at each option.

What is an NVR?

An NVR is a video recorder that records and stores footage from network cameras. It connects to the cameras via an IP network, allowing for high-quality video streaming and advanced features such as remote viewing and motion detection. The NVR records video footage directly onto a hard drive, with the option to add more storage space as needed.

What is a DVR?

A DVR, on the other hand, records and stores footage from analog cameras. It connects to the cameras via coaxial cables and records the video onto a hard drive. While traditional DVRs are limited to analog cameras, some modern DVRs can also work with IP cameras through the use of video encoders.

So, what are the key differences between NVRs and DVRs?

Camera Compatibility

As mentioned above, NVRs work exclusively with IP cameras, while DVRs work with analog cameras. This means that if you already have an existing analog camera system, you will need to stick with a DVR. However, if you're starting from scratch or planning to upgrade your camera system, an NVR may be a better option due to its ability to work with high-resolution IP cameras.

Video Quality

NVRs generally offer higher video quality than DVRs, as they are designed to work with IP cameras that can provide HD or even 4K resolution. DVRs, on the other hand, are limited to the resolution capabilities of analog cameras, which are typically lower than IP cameras.

Remote Access

NVRs offer more advanced remote viewing capabilities than DVRs, as they are designed to be accessed remotely via an internet connection. This allows you to view live and recorded footage from anywhere with an internet connection, using a computer, smartphone, or tablet. While some DVRs do offer remote viewing capabilities, they are often limited in their functionality and require more setup.

Cost

DVRs are generally less expensive than NVRs, due to their lower resolution capabilities and simpler technology. However, as the price of IP cameras continues to drop, the price difference between NVRs and DVRs is becoming less significant.

In conclusion, the choice between NVRs and DVRs largely depends on your specific needs and budget. If you're starting from scratch or upgrading your camera system, an NVR may be a better option due to its advanced features and compatibility with high-resolution IP cameras. However, if you already have an analog camera system, a DVR may be a more cost-effective solution. Whatever your choice, make sure to choose a reputable brand with a proven track record of quality and reliability.
What warranty do you provide?

We provide a standard 1 year warranty on all Hikvision kit but a 3 year warranty can be provided when registered with Hikvision.